Mendon Township Library
Mendon Township Board meetings take place on the third Tuesday of the month at 4:00 and are open to the public. Occasionally, conflicts arise and the day/date of the meeting changes.
Our next meeting will be September 26, at 4:00 pm., In the lower level.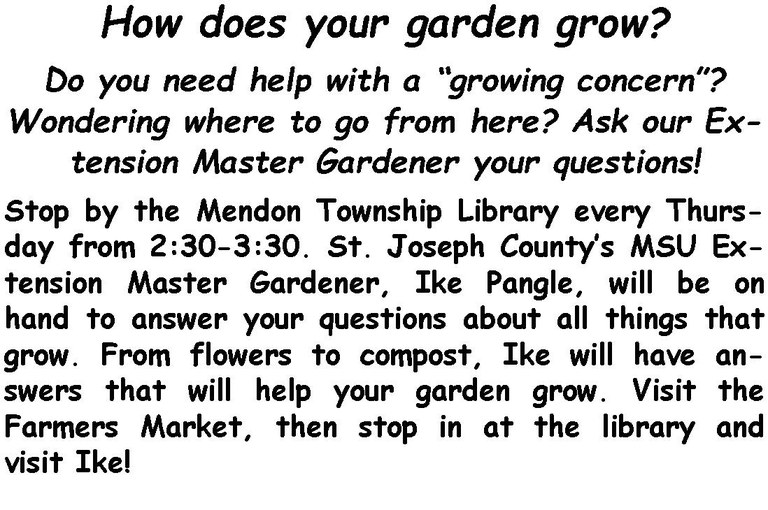 COMING SOON ..
NOVEMBER 18, 12-2, BOOK SIGNING with author KRISTEN TRACY, "Cat's Very Good Day"
DECEMBER 16, 10-2, OPEN HOUSE, Kalamazoo Symphony Orchestra will be there
ONGOING EVENTS!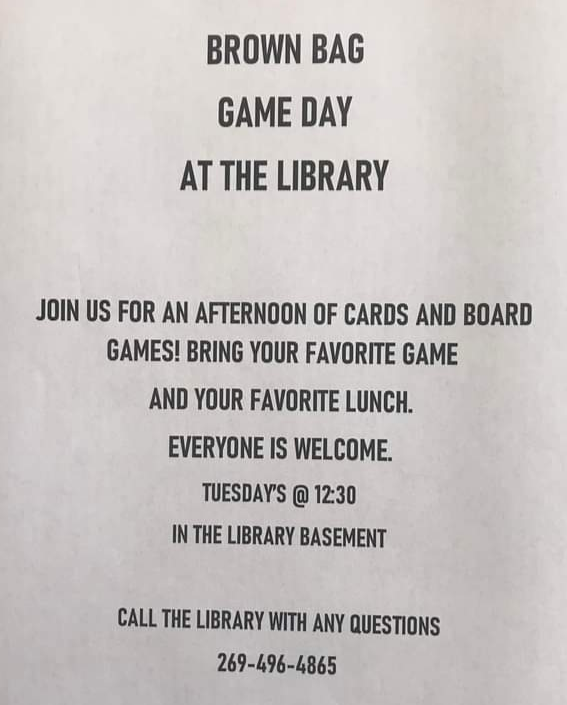 ATHLETIC EVENTS AT:
University of michigan
discounted prices!
click on this: XXX link!
Visit the library's

SEED LIBRARY

and pick up some seeds!
.                                                 
Pre-School Storytime starts back up

OCTOBER

4th! Wednesdays at 11 for children aged 2-5 years old.
A story, a craft, a little snack! See you in

October!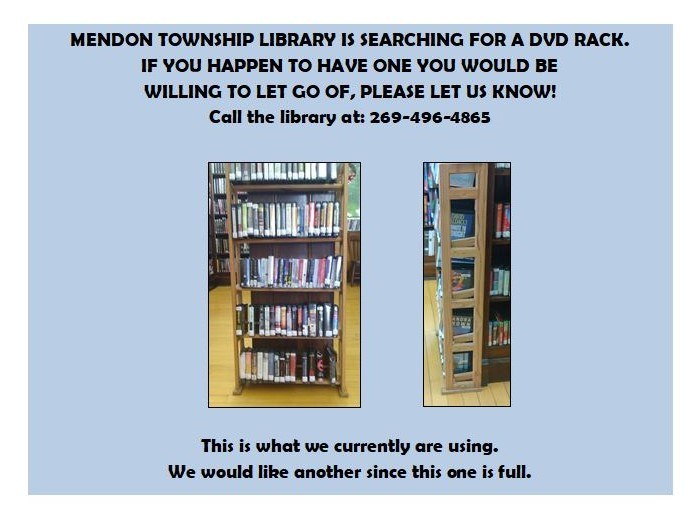 GetSetUp!

The Library of Michigan and Michigan Department of Health and Human Services are partnering to support the ability of older Michigan residents to access live, online virtual classes on a variety of topics through GetSetUp.

The GetSetUp classes include a wide variety of topics including live classes on technology, meditation, brain fitness, art, cooking, financial planning, aging in place, and more. When registering for classes, fees will be waived if you use the code: MICHIGANHEALTH

Link to the classes by visiting this website:
                https://www.getsetup.io/partner/michigan
READ MICHIGAN!!!

Check out www.ReadMichigan.org, a cooperative eBook platform developed in partnership between the #LibraryofMichigan, University of Michigan Press, Michigan State University Press, and Wayne State University Press. Read the complete press release:

https://bit.ly/34avOx2
BANNED BOOKS WEEK, SEPTEMBER 18 - 22
READ A BANNED BOOK TODAY!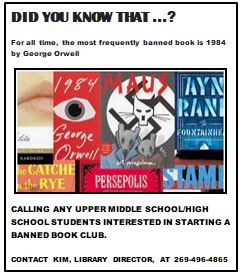 MENDON ALUMNI! THE LIBRARY IS LOOKING FOR A FEW BOOKS
Mendon Township's Library Director has a DVD containing most of Mendon High School year books from years 1950 through 2017. A DVD is available for viewing at the library. Viewing the yearbooks is now available on the website. Each year is a separate PDF file to make searching easy. Go to: E-SHELF & RESEARCH. Go to: DIGITAL EXHIBITS. Click Mendon Community High School Yearbooks. Click a yearbook, it will pop up as a new page. Click the yearbook again and it will download to the computer. Open the download and you will be able to browse the yearbook.
We are looking for missing copies to add to the collection. If anyone has the following we could borrow to scan, we would appreciate it! Donations of missing yearbooks would also be accepted! The years  missing are:  1963, 1966, 1969, 1972, 1974, 1979, 1981, 1983, 1985, 1986, 1987, 1998, 1999, 2000, 2001-2007, 2010, 2011 & 2013.
THANK YOU!
PATRONS! PATRONS! PATRONS!
Mendon Township Library would like your help. Then next time you visit the library, please let the librarian on duty know what township you are in. This will be helpful for us to use when we create our reports for the State of Michigan. We do not want your name or address, just your township. Thank you!
Plots and Pages 
meeting the third thursday
of the month at 6:05
 Questions? Call the library @ 269-496-4865!
Books for 2023 here!
MORE EXCITING NEWS!!!

MTL will be offering: hoopla, a digital media service that allows you to borrow movies, music, audiobooks, ebooks, comics and TV shows to enjoy on your computer, tablet, or phone – and even your TV! With no waiting, titles can be streamed immediately, or downloaded to phones or tablets for offline enjoyment later.
 Talk with our library staff for details!
new hoopla collections:
Woman's History Month Audiobooks: https://www.hoopladigital.com/collection/4040
Woman's History Month eBooks: https://www.hoopladigital.com/collection/14081
National Craft Month eBooks: https://www.hoopladigital.com/collection/11798
National Craft Month Videos: https://www.hoopladigital.com/collection/14121
IF YOU HAVE ANY QUESTIONS OR CONCERNS, FEEL FREE TO CONTACT THE LIBRARY AT 269-496-4865.
THANK YOU!