Mendon Township Library
The Mendon Township Library was built in 1905 and is located in the picturesque village of Mendon, Michigan. The MTL Board is searching for names of people who have contributed to do success of our library. Please share your information with our library director, Kim.
STORY TIME
11 AM FOR TOTS & TODDLERS
Wednesdays!
STORY, SNACK, CRAFT (not in any particular order!)
*******************************************************
Plots and Pages
November 19th at 7:05 pm
UNDERGROUND RAILROAD, by Colson Whitehead
Meeting in the library's basement with social distancing! 
*******************************
LIBRARY OPEN NORMAL BUSINESS HOURS
Tuesday, Wednesday and Friday, 10 am-5 pm.
Thursday, 12 pm-7 pm and Saturday 10 am-2 pm.
Closed Sunday & Monday
In light of the interesting year 2020, please understand that the hours are subject to change.
Wearing masks is required.

Social distancing is enforced.

Maximum capacity of 10 persons.

Guidelines

concerning PPE

posted on front & back doors.
Staff has been trained on the proper for cleaning

procedures.

Staff is required to wear a face cover when working with patrons

.
IF YOU HAVE ANY QUESTIONS OR CONCERNS, FEEL FREE TO CONTACT THE LIBRARY AT 269-496-4865.
THANK YOU!
*************************************************
OTHER USEFUL INFORMATION:
**************************
LAST DAYS TO REGISTER TO VOTE BY MAIL:
NOBEMBER 2 (IF REQUESTED BY OCTOBER 30TH)
OR IN PERSON BY NOVEMBER 3
If you have not registered to vote yet, you may do so by requesting a ballot by mail (before October 30th) which will have to be received by November 2 (by mail) or by the clerk's office on November 3rd.  The candidate elected on November 3rd, will be leading our country for the next four years. It is your right and duty as a citizen to VOTE. (and you cannot complain if you don't participate 🙂) 
Registration Deadlines:
In person: Nov. 3
Absentee ballot deadlines:
Request: Received by Oct. 30 by 5:00 p.m.
Return by mail: Postmarked by Nov. 2
Return in person: Nov. 3 by 8:00 p.m.
Early voting:
Sep. 24 - Nov. 2,

but dates and hours may vary based on where you live.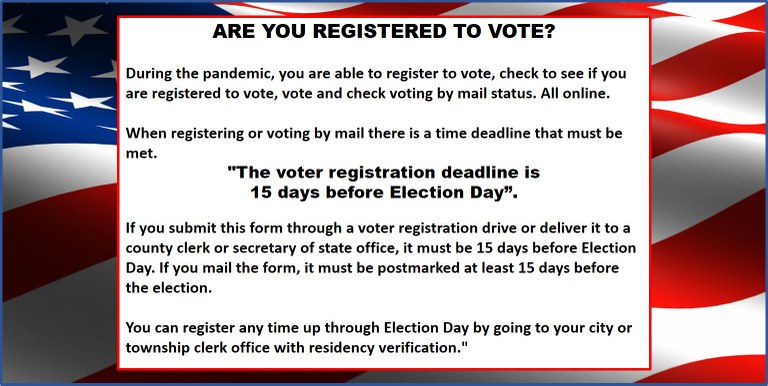 Check registration or vote:   https://www.michigan.gov/sos/0,4670,7-127-1633_8716---,00.html
The Michigan Voter Registration Form:   https://www.michigan.gov/documents/MIVoterRegistration_97046_7.pdf
************************
In the state of Michigan, you may choose to use an absentee ballot for any reason or no reason at all. Contact your local clerk to obtain a ballot by mail. Mich.gov/sos has a lot of information regarding voting, ballots and elections.
******************************************
CENSUS 2020
HAVE YOU COMPLETED YOUR CENSUS YET?
Responding to the census is not only your civic duty; it also affects the amount of funding your community receives, how your community plans for the future, and your representation in government. Specifically, data from the 2020 Census are used to:
• Ensure public services and funding for schools, hospitals, and fire departments.
• Plan new homes and businesses and improve neighborhoods.
• Determine how many seats your state is allocated in the House of Representatives.
The 2020 Census is happening now.
Please complete your form online, by phone, or by mail when your invitation to respond arrives. Visit 
my2020census.gov
 to begin.
******************************************