Get a Michigan Activity Pass!
Discover Michigan - Using Your Library Card!
Michigan Activity Pass
"Check out" Michigan
Did you know that your library card can be your best travel companion? Discover hundreds of Michigan's cultural destinations and natural attractions with your Michigan library card! You can "check out" FREE or discounted admission passes (or other exclusive offers) to hundreds of Michigan state parks, campgrounds, museums, trails, arts & cultural destinations, seven National Park Service venues, and more.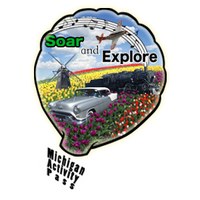 Check out your free MAP pass today!
Use your library card to check out a pass for one of Michigan's premier cultural attractions! For a list of participants, click on the balloon. 
How the Program Works:
Library users with a valid library card from any one of Michigan's nearly 400 public libraries can print a pass, either from home or at the library, to one of the 70+ participating cultural institutions.  Some cultural partners offer complimentary or reduced price admission; others, discounts in their gift shop or other exclusive offers for MAP pass holders only. Each Michigan Activity Pass expires one week from the date it is printed. 
Each library will have five passes available per week for each of the participating organizations. 
For a list of participating locations, please check out the MAP Press Release. 
Upper Peninsula Brochure, click here
Upper Lower Michigan Brochure, click here
Lower Michigan Brochure, click here
To check out your free pass today, click on this link
and follow the instructions given on the page.